L.A. HAIR DESIGN
STRIVING FOR PERFECTION WITH EVERY CUT, COLOUR AND STYLE
WELCOME TO
L.A. HAIR DESIGN
At L.A. Hair Design our artistic goal is simple – to create a beautiful look for each client that reflects their vision and unique personality.
Our team of talented hair professionals is second to none. Specialists in colour correction and makeovers, they can create the look you want from classic to cutting-edge.
A welcoming gathering place, our newly renovated salon is the perfect place to relax while enjoying a fresh cappuccino, browsing in our fashion boutique, or just hanging out and catching up.
At L.A. Hair Design, we are committed to providing you with an unsurpassed salon experience each and every time you come in, because you are important to us every day.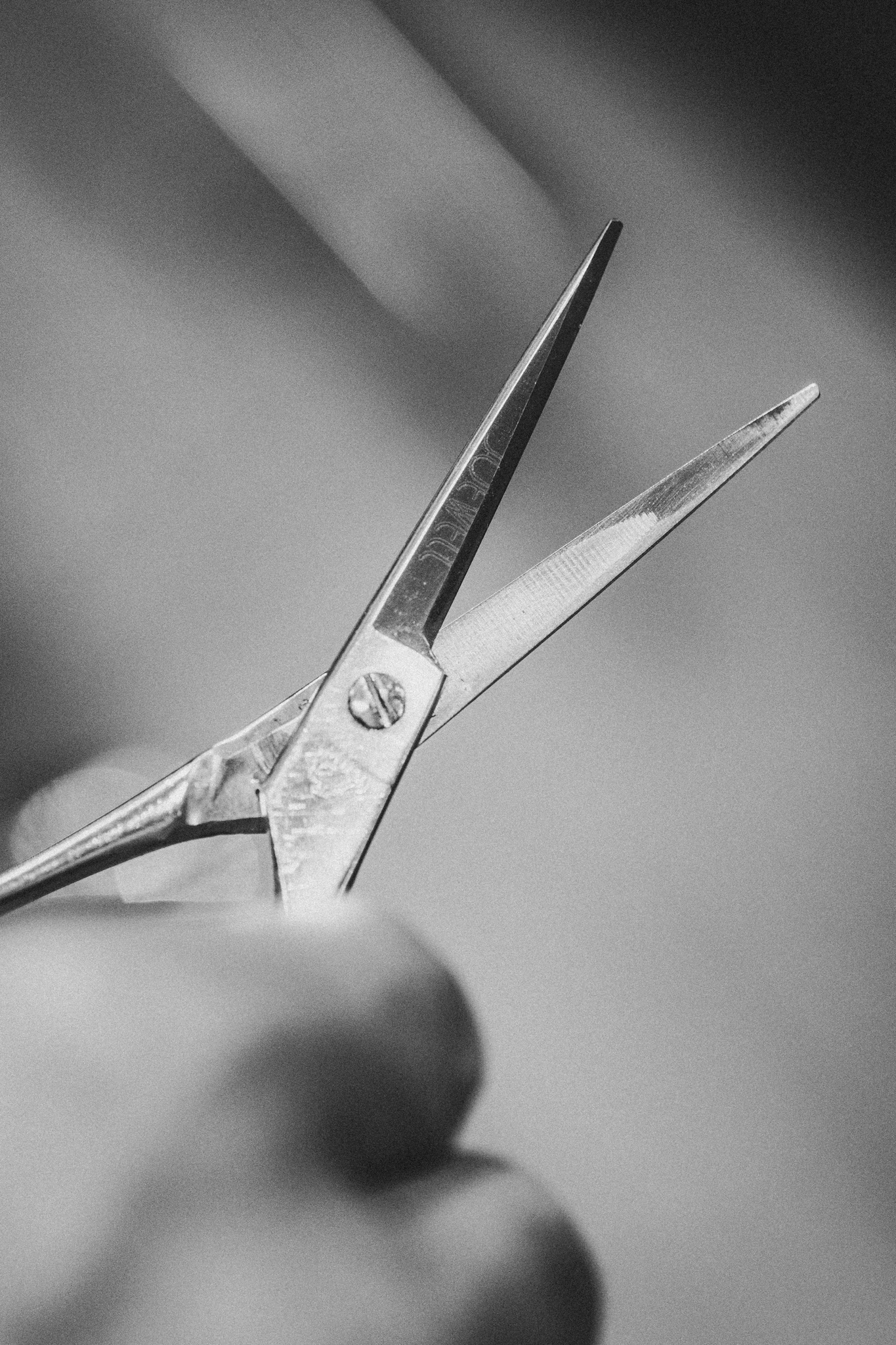 Experienced & Specialized Staff
From design and styling to advanced colouring and hair treatments, our experienced stylists will help you get the look you want.
What Our Clients Say
We believe that every client should be treated as a guest arriving into our home.


LINDA
"I have been a client of L.A. Hair Design for 22 years. Where else can you find great people, a great atmosphere and great hairstyling?
They are simply the best! It is worth the drive to Maple."
MARIA
"I've been a loyal client of David's at L.A. Hair Design for over 10 years. Dave is a rare hairdresser who listens to my ideas and makes suggestions that always work. I have recommended him to many friends and family members who are now loyal, happy clients of L.A. Hair Design as well.
Each visit includes good conversation and great hair. Thanks Dave!"
KATHLEEN
"David has been cutting my hair for 20 years! I feel comfortable with him and I always know that I will come out of L.A. Hair Design feeling much better than when I walked in. I wasn't comfortable coloring my hair, but David has highlighted it many times over the years, always delivering fabulous results.
I wouldn't trust anyone else to cut or highlight my hair, which is why I make the drive from Unionville to Maple. The entire staff at L.A. Hair Design makes me feel welcome without any sign of pretentiousness. I recommend them often."
JILL
"L.A. Hair has been my one and only hair-care destination for over twenty years! I have always received outstanding service at the salon… I would never consider trusting anyone else with my hair! Whether it be color advice, styling tips and suggestions, up-dos for big events, or help with hair problems, I know I always get the best advice from the L.A. Hair family. But there's much more to L.A. Hair than just hair!
They are a group of delightful people who welcome you to the salon as if you are family. It is always a great pleasure to come to the salon, be welcomed with a genuine smile, enjoy a freshly made coffee, espresso or cappuccino, and catch up on everyone's news. It's a friendly, relaxing place to be. A place where you can sit back and enjoy a top quality professional service in a completely friendly environment.
I always look forward to my visit to L.A. Hair Design. To me, it's a happy oasis!"
What's New?
Stay up to date with all the latest news from l.a. hair design.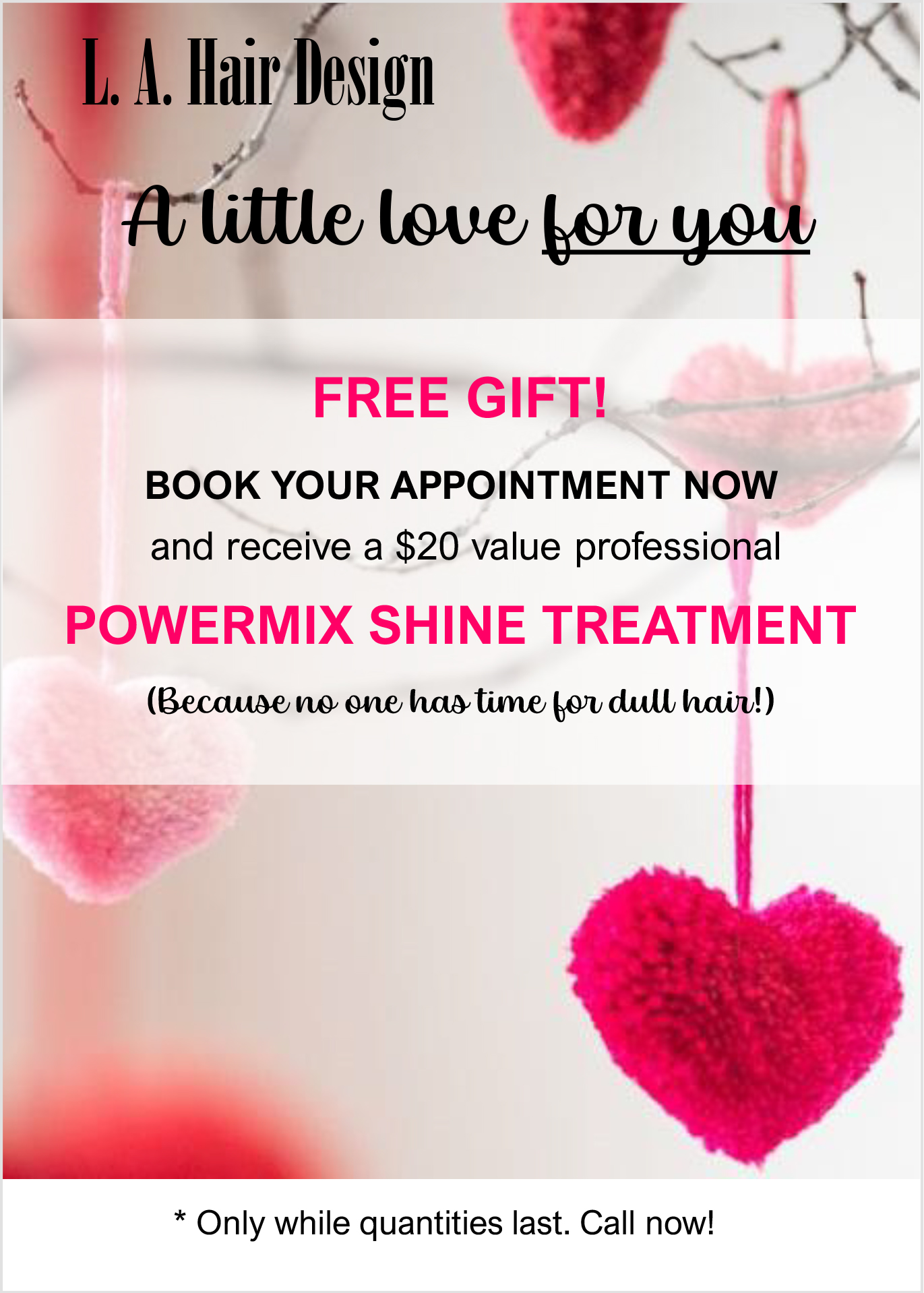 New Client Promo
Bring in this voucher and receive $10 off any hair service on your first visit.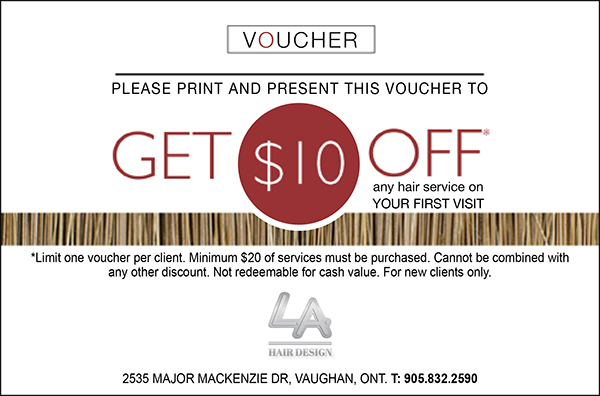 Print this Voucher and bring it in. You can also DOWNLOAD and print it later.
Referral Program
At L.A. Hair Design we know the value of a referral from a satisfied client.
In appreciation for any referral that is brought to our attention by a current or new customer, the referring client
will find
 

$10.00 added to their account

 

to be used on their next visit towards any hair services.
We also have
 

referral cards available

 

at our front desk, to be taken home and passed on to
someone that you think may be interested in discovering our unique salon.
CONTACT
Phone: 905.832.2590
E-mail: info@lahairdesign.ca
BUSINESS HOURS
Monday: 9AM - 6PM
Tuesday - Friday: 9AM - 8PM
Saturday: 8AM - 5PM
Sunday: CLOSED
© COPYRIGHT 2021 - L.A. HAIR DESIGN